Expo 2020 Dubai highlights Indonesian companies' sustainability leadership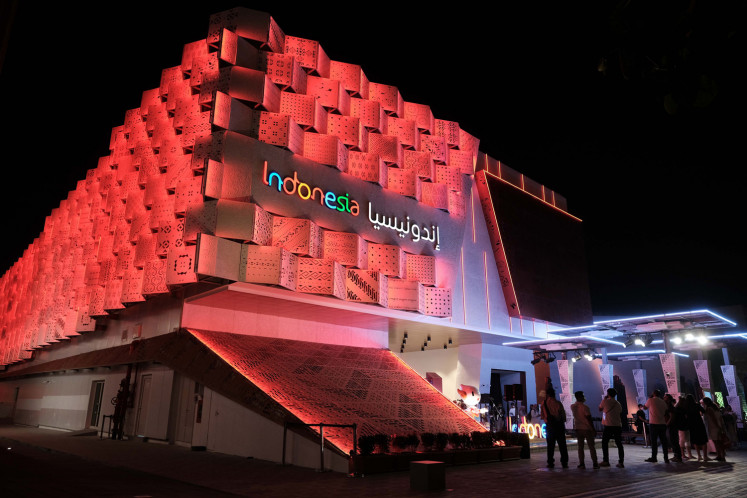 Themed "Connecting Minds, Creating the Future" and sustainability as its subtheme, Indonesia is highlighting its many strengths at the 2020 World Expo hosted by Dubai. Among the Indonesian companies being featured at Dubai is leading consumer technology platform GoTo, with a focus on its sustainability initiatives.
GoTo is representing Indonesia as part of the national delegation to Expo 2020, showcasing the best of the best in technology, innovation, business and sustainability initiatives that Indonesia has to offer.
"There is a pressing need for the private sector to take action and help address the most critical environmental and social issues that plague our planet and communities today," said GoTo CEO Andre Soelistyo.
"As GoTo continues to grow in size and strength with millions relying on our platform to meet their daily needs, we have a responsibility to do so sustainably," he underlined.
"Through the integration of industry-leading ESG [environmental, social and governance] practices, we are ensuring that we do business better across our entire ecosystem while paving the way for other companies in the region to do the same."
The latest addition to the company's sustainability portfolio is the recently announced partnership between Gojek, GoTo's on-demand services arm, and Taiwan-based battery station manufacturer Gogoro. The Gojek-Gogoro partnership aims to pilot a battery swap scheme for electric vehicles (EVs) in Jakarta toward an ambitious plan to develop a nationwide EV ecosystem.
In the pilot project, Gojek and Gogoro plan to build GoStation-branded battery swapping stations at four Pertamina gas stations. Gogoro will also deploy at least 250 of its electric scooters, the Gogoro Smartscooter, in the project's initial phase in Jakarta, to be expanded to 5,000 vehicles in successive phases to cover 1 million trip kilometers.
Gojek's EV ambitions are a part of GoTo's sustainability mission to achieve "Three Zeroes" carbon neutrality by 2030, which stands for "Zero Emissions, Zero Waste and Zero Barriers". This is GoTo's commitment to create positive, long-lasting impact and value for the planet and its people.
The GoTo mission is structured around three pillars: 1) the GoGreener environmental sustainability initiative to achieve zero emissions and zero waste; 2) the GoForward social prosperity and advancement initiative; and 3) the GoTogether equality and inclusion initiative to achieve zero barriers.
"These are issues that are of increasing importance to stakeholders everywhere, and we are determined to exceed their expectations for the good of Indonesia, Southeast Asia and the rest of the world," Andre said.
GoTo continues to work closely with governments, like-minded partners and the right organizations to accelerate change for the better. The company also has a Sustainability Advisory Council composed of impartial, independent experts from various organizations to advise the company on best practices and oversee its accountability.